"With Love, From Vietnam"

My car mechanic of 20 years,
I am trying to understand him.
He greets me like a Long Lost Brother
as I drive up
and drops whatever he is doing,
no matter how busy he is.
What others couldn't see about me,
he must have sensed,
As I have only recently become
Civil
and empathetic towards others.
Maybe he knows the
permanent shame I carry
for decimating his people for a sham
Domino Theory,
And how many times I argued and marched
against The War.
Maybe he knows I'm also a Buddhist,
actually a Bu-Fi (short for Buddhist Sufi),
and smile every time I see his
altar with fruit,
surrounded by
air filters and axle struts.
Maybe he knows my
favorite jazz composer
is a hero to his countrymen,
Nguyên Lê,
Who can dissolve a musical border
faster than you can say
Build A Wall.
What he charges is laughable,
and that's exactly what I did
when he pulled a pheasant feather
out of my air conditioner!
Lose his cool?
Never.
Though I lost mine,
when the city shut him down
on a bogus violation.
I'm still trying to figure out
where all his love comes from,
where it came from,
Still trying to understand
what he sees in my field.
I know what I see in his . . .


dedicated to Mike Dang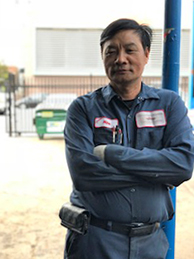 August 2018
©2018, Michael Smolens