"I Heard Two Drummers Singing"

I heard two drummers singing,
their mouths open just enough to smile,
chorus and dancers fomenting in each of their drum sets.
Yes, I said 'drum sets'
Not like some high school pissing contest,
or professional dueling,
like Buddy Rich facing off with Gene Krupa.
But rather,
two equally paired pilots of contraptions
on a single stage
flanked by a double bass of voluptuous proportions.
I heard two drummers singing,
and they were no more content to stay on the
African Motherland
than we to stay off the Internet.
Instantaneous space travel to
Dakar, Port-au-Prince, Caracas, and New Orleans,
Refusing to cease their free association
of rhythms, images, and declarations.
Their passports coming apart at the seams.
I heard two drummers singing,
their playing insisting that I
COME OUT !
Out of the closet of disbelief that
Ghana's wish to
Dance with Harlem is real.
To hear firsthand how the Savannah
could land so clearly in the legacy of
Satchmo, Miles, Trane, and Lady Day.
Years later, those two drummers are
still singing . . .
(dedicated to Otis Brown III and Francisco Mela)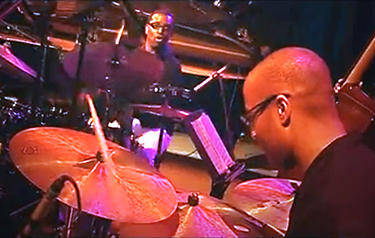 February 2012