They generally shun the limelight,
these patron saints.
Parades, grand speeches, and adoration
are not their style.
Yet they will confess their pleasure in bathing
in the Hearth.
No, they are not chefs,
though their offerings are delicious.
Nor are they architects,
though they clearly understand the relationship
between space, time, and people.
And no, they are not preachers,
though they do help to bring in the
Higher Spirits.
Some would call them Tour Guides.
In fact, you may wonder if they shepherd guests to,
let's say, the Pyramids, the Louvre, or the Taj Mahal.
No, it's more like they invite their guests to experience
the Pyramids, the Louvre, and the Taj Mahal
being built before their very eyes.

When The Saints Come Marching In,
and all the parades and grand speeches are finished,
They will file in, one-by-one, exhausted,
seeking rest and rejuvenation.
Here, they will find a Host,
ready to show them to their seats
(front row, of course).
Despite what you may have heard,
the Hereafter is far from silent,
For it is filled with great music
(always in tune),
and there are concerts around the proverbial "clock"
(and yes, they always start on time).
All Hosts are rightly called, just that,
recreating an ancient form of entertainment—
a concert hosted in a home.
Not to presume a higher station, mind you,
but to help "bind together" a community,
entretenir as the French originally thought.
To host, in the literal sense of hosting,
another organism,
here,
a different musical group every month,
To help be a source for new growth among
artists and supporters,
like bread hoping to foster new yeast.

Each Host, like a gallery curator,
has a personal vision which is highly individual.
This 'signature of selectivity' reminds them of something
Deeply Resonant,
recalling either an actual concert, or maybe,
a beloved fantasy world.
Their choice of musicians builds a particular continuity
that also creates trust for their audience.
Out of the din of seemingly unlimited possibilities
there is a voice ready to say,
"Trust me, I've heard them and you will enjoy this."
When you come into their home,
you are entering a world of
Intimacy,
Immediacy, and
Vulnerability.
Their piano,
their kitchen,
their bedroom,
their daughter's art on the wall,
All subconsciously signal a deep sense of
witnessing of the musicians
by the audience.
What music emerges can exceed the wonders of
the Pyramids, the Louvre, or the Taj Mahal.
No matter if it's scripted note-for-note,
or completely improvised in-the-moment,
or something in-between.
At the very least, there is always a sweetness of sincerity
that rivals the freshest gardenia.
All within a breath's reach.
And that's what all those 100+ House Concerts
have done to me—
reached inside my breath.
Forming a panorama of remembered sounds and terrains that can never be erased.
No marquis, no bright lights, no long corridors to a
big stage, my Carnegie Hall has
a piano,
a kitchen,
and family art on the wall.

Hosts don't have a complete monopoly on my inspiration:
ParentS
fostered rather than extinguished my musicality,
TeacherS
taught me how to break down many a
musical mystery,
PartnerS
showed me the greater causality of my music,
DjS
provided an endless education in the latest
(and most obscure) artists.
And, how many of those people regularly took apart their
entire home
(and put it all back together)
just to give me an inspiring musical experience?
To those wishing entrance into their court,
remember this:
It is no more a referendum on your talent than
your shoe size or date of birth.
Like dating, you will inevitably be allowed entrance,
somewhere,
if you are patient, and resist resignation...
For nothing, including
the taste of the Host,
your sound,
and even your communication skills,
stays completely static.

When The Saints Come Marching In,
look carefully.
You might catch a Saint bestowing their robe to a Host
which the Host will graciously refuse,
preferring instead
to breathe in
a new panorama of sounds and terrains
that will never be erased…


(dedicated to all House Concert Hosts)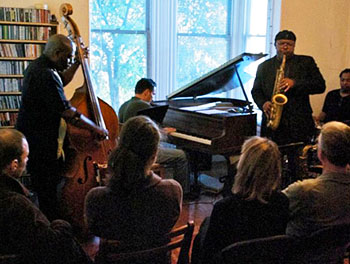 November 2010