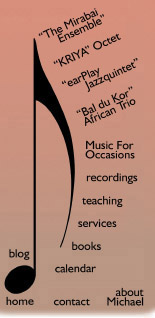 ..... music for occasions.....

Music For Occasions
~ where the magic and the music meet ~
Michael Smolens is a veteran musician living in the Bay Area who has inspired many people by his performances, recordings, and teaching.

You might have heard him at a wedding, private event, corporate function, sacred setting, or perhaps in a radio interview, or a concert hall like Yoshi's Jazz House, or on one of his six CD releases.



With over 40 years of performing experience, he brings a rich and diverse musical background to all of his performances as a bandleader, arranger, improvisor, and teacher. His repertoire includes classic as well as refreshingly different works from Jazz and Broadway, Latin and Pop, and Classical and Sacred.

In addition to being a pianist, vocalist, and alto flautist, Michael plays numerous instruments from around the world—including West-African balafon and djun-djuns, Middle-Eastern dumbek, Caribbean steel pan—to spice up your event. He is available both as a soloist and as a bandleader for duo through octet formats.


Weddings
Ceremony Options

Piano/Keyboard & Alto Flute

Vocals with Piano/Keyboard

HAVING IT ALL
(examples of customization)

Reception Options

Solo Piano & Piano/Vocal

Duo Ensembles

Jazz, Pop, and Classical Ensembles
Online Brochure

HAVING IT ALL
(examples of customization)


Private Parties, Corporate Events,
Banquets, Gallery Openings

Solo Piano & Piano/Vocal

Duo Ensembles

Jazz, Pop, and Classical Ensembles

World Music Ensembles
Holiday Music

Online Brochure

HAVING IT ALL
(examples of customization)