..... World Music Options .....
World Music Options (ensembles)
West-African trio "Bal du Kor"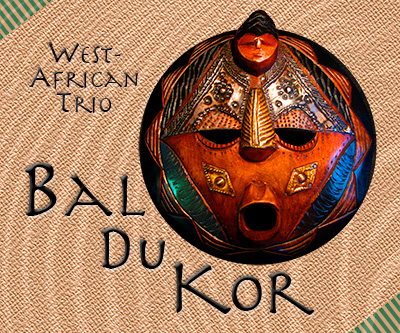 Bal du Kor is made up of three veteran performers/composers/recording
artists who join forces to create an enchanting fusion of traditional and
original West-African melodies and rhythms.
The heart of this dynamic and captivating ensemble are the indigenous instruments balafon (marimba), dun-dun (talking drum), and kora (harp), uniquely combined with alto flute, ukulele, melodica, djembe, djun-djuns, shekere,bells, tambourine, and vocals.
The band's emotional range spans from the delicate and longing to the
inspiring and ecstatic, while their collective cosmopolitan backgrounds
give birth to unpredictable musical excursions.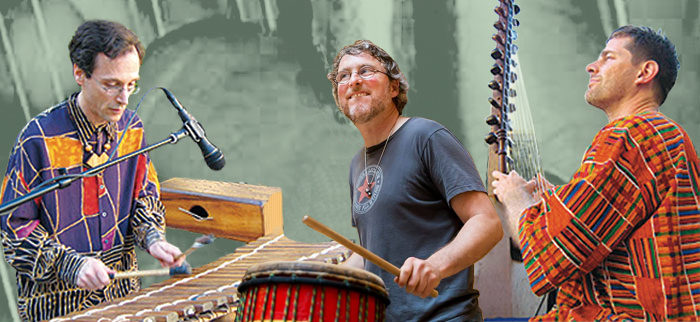 audio samples

Saffron
alto flute, kora, dun-dun
:56

The Morning Wind Speaks
voice, balafon, kora, tambourine
:28

Upside-Down Umbrella
kora, djembe, djuns-djuns, shakers
:33


Presenter Testimonials

"Wow, Wow and WOW!!! What an amazing group of musicians,
and such a wonderfully eclectic and gorgeous group of instruments!
Surely, this was a performance not to be missed.
Smolens' balafon and Berkman's kora playing really stood out for me.
And the percussion interchange between ProfessorSlap
and Berkman was just remarkable..."

—Anne W. Emerick, producer of Wisteria Ways House Concert Series
"The Bal du Kor house concert here was fascinating
and trance-inducing. The interplay between the percussionists
with a full armament of foreign instruments was virtuosic
and captivating. The kora stole the show at times,
with its harp-like sounds, in the hands of a master..."

—Robert Cowart, host of Hillside Concerts in Berkeley

---
Brazilian trio "BRISAS do BRASIL"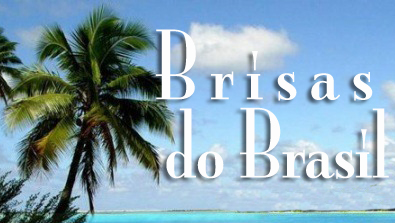 Brisas do Brasil creates an exciting and tropical environment, serving up intricate original arrangements of Bossa Nova and Samba, refreshing the listener with its constantly shifting textures. The trio features sublime compositions by the Brazilian master Antonio Carlos Jobim (The Girl From Ipanema, Corcovado, Desafinado), along with gems by Sergio Mendez, Toninho Horta, Milton Nascimento, Edu Lubo, Guinga, and Aecio Flavio, plus evocative original works.
Vocalist Mary D'Orazi effortlessly traverses between English and Portuguese, often within the same song. Percussionist Greg German combines traditional Brazilian and jazz percussion with verve and romantic sweetness. Keyboardist/arranger Michael Smolens magically imitates a nylon-string guitar and acoustic bass with uncanny accuracy while adding alto flute, melodica, and voice to the mix.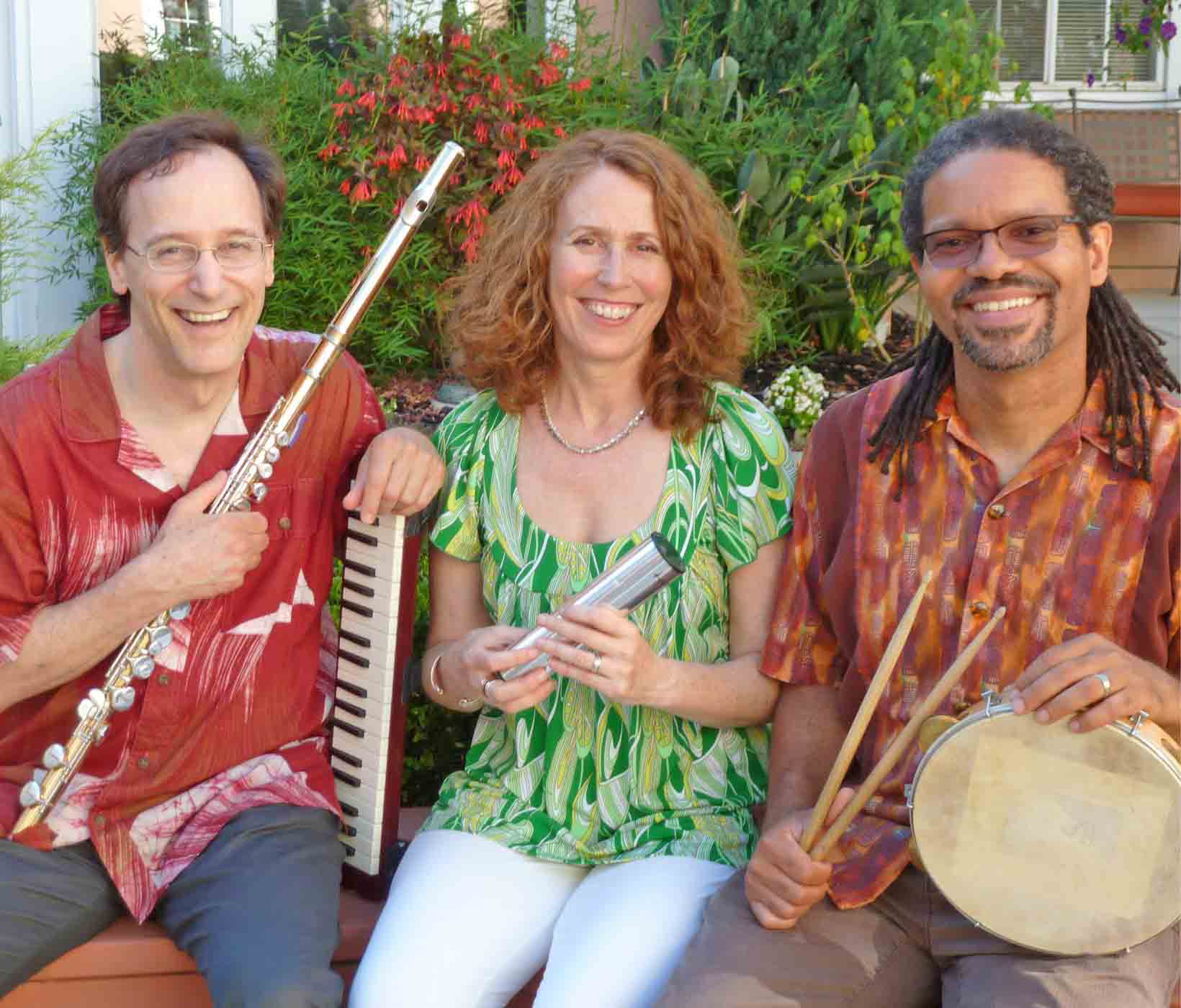 Wave (A.C. Jobim / samba in 7) 1:39
Mary - voice; Michael - keyboard; Greg - drum set
Rio Rescue (M. Smolens / samba in 3) 2:02
Mary - voice; Michael - keyboard; Greg - drum set
Mary - voice; Michael - alto flute; Greg - cajon & tambourin
The Look Of Love (B. Bacharach / pop ballad) 1:33
Mary - voice; Michael - keyboard; Greg - drum set
[all arrangements by M. Smolens]
Presenter Testimonials
"Mary D'Orazi's voice took us on a magical,
lyrical journey through samba.
She was supported on percussion by the amazing Greg German,
and rounded out by the impressive keyboard
work of Michael Smolens."

—Anne W. Emerick, producer of Wisteria Ways House Concert Series
following the group's October 8th, 2016 performance
"Incredible, just incredible. Very high level of
creativity and musicianship..."

—Andy Robbins, Music Coordinator of Oakland Center for Spiritual Living,
following their October 25th, 2015 performance
---
Double Trio Option
two trios - two sets - One Amazing Event!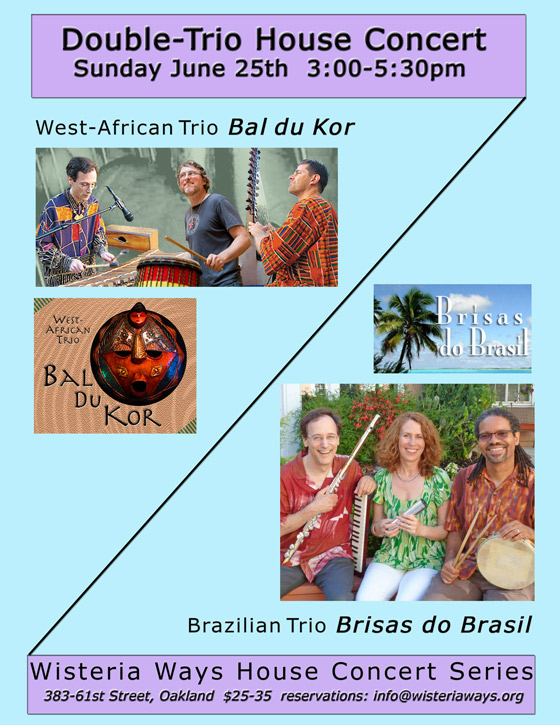 Presenter Testimonials
"A double-header of exquisitely ear-stretching music…
Bal du Kor wrapped us in a richly textured fabric of rhythm,
while BRISAS do BRASIL immersed us in sweet lilting melodies
and unique interpretations of samba and jazz.
The versatility and musical mastery of the performers was remarkable.
I have rarely come away from a concert having felt so enriched,
or my ears so sensuously stimulated..."

—John Steere, host of the Webster Haven House Concert Series,
following their March 11th, 2017 performance
"What a fantastic concert.
The combination of two completely different trios—
Brisas do Brasil plus Bal du Kor— in one evening
was absolutely stellar!
And did I mention how incredibly well
Michael organized and orchestrated the two trios?"

—Anne W. Emerick, producer of Wisteria Ways House Concert Series
following their Oct 8th 2016 Double-Trio performance



---
World Music Options (solo)
West-African Balafon
| | |
| --- | --- |
| | Michael plays a specially tuned "balafon" or marimba made by a master craftsman in Guinea. Its sweet tone is heard throughout Africa and increasingly in world fusion music. |
West-African Tone Drum
| | |
| --- | --- |
| | This unique twelve-note tone drum was made by Australian instrument builder Al Wunder. The origin of this instrument was found to contain two and occassionally three tones made out of a hollowed log, hence its original description, "log drum". Tribes would literally communicate to one another using this and other indigenous instruments. |
tone drum - with additional hand percussion and wood flute

South-African Shona Mbira
| | |
| --- | --- |
| | Shona mbira music is known to have originated in Zimbabwe over 700 years ago. Each piece consists of a basic cyclical pattern which includes numerous intertwined melodies, often with contrasting rhythms. The example here represents Michael's investigation into the world of gentle trance-polyrhythmic play, using his digital keyboard. |
Mbira - solo
Brazilian Acoustic Guitar
| | |
| --- | --- |
| | The music of Brazil often incorporates the classical guitar sound. Though not a guitarist, Michael has had many years of experience performing this style using the classic nylon string guitar sound on his digital keyboard. |
If You Never Come To Me (A.C. Jobim) - slow bossa-nova
Vera Cruz (M. Nascimiento) - fast samba
arrangements by Michael Smolens
North Indian Tablas & Harmonium
| | |
| --- | --- |
| | Not only does North India possess one of the most intoxicating musical cultures, but it has also permeated the entire Bay Area. The traditional instruments of tabla, harmonium and voice easily meld with any Western instrument such as saxophone, keyboard, and drum set. What you will hear is one of several different harmonium sounds available on Michael's digital keyboard. |
tabla - solo, played freely

harmonium and tabla - duet
harmonium and tabla - ensemble with voice, in tempo
Middle-Eastern Dumbek
| | |
| --- | --- |
| | This mainstay Middle Eastern drum complements virtually any melodic instrument or voice, and creates a sensuous sonic environment. |
dumbek - with Turkish G Clarinet
Caribbean Steel Pans
| | |
| --- | --- |
| | This Caribbean island instrument was originally made from used oil barrels, fashioned into shape with hammers. They have since inspired an entire musical genre, and are now manufactured. The instruments that Michael plays are known as "double- seconds", and have a mellower tone than the more frequently heard "lead" pan. |
double second steel pans - with drum set


All music on this page ©2017 Second Sight Music and Michael Smolens,
except where noted. All Rights Reserved.