"Fearless Four-Legged Fugitives"


Cunning, devious opportunists,
art thieves, trash bandits,
fearless four-legged fugitives.
Yes, once I played tug-o-war over a huge bag
of cat food with a neighborhood raccoon,
He was not in the least deterred by a human
four times his weight.
Later, I volleyed a different raccoon with a water jug
while he was pillaging my cat's food.
He simply bounced like a football,
and probably saw me more like a playmate
than an actual threat.
Eventually, I amassed a pile of rocks as ammunition,
ready to meet their brazen ambition with force.
So when I heard the slightest commotion on my porch,
I flung open the door,
weapon in hand,
ready to avenge my cat's honor.
Only to see the flapping of the card, attached
to my outdoor fire extinguisher,
Laughing at me . . .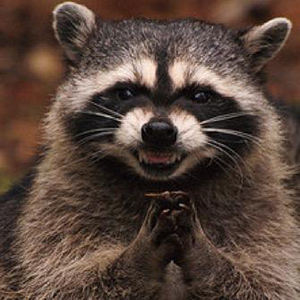 August 2016