..... earPlay Jazzquintet .....

School Outreach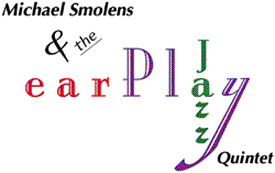 WHAT YOU CAN EXPECT...

Our Ensemble members are not only compelling performers,
but also highly experienced teachers in both private and
classroom settings. We will guide your students
through an unprecedented range of styles
and improvisational approaches.
(The Music Director has been teaching since 1974.)
For K-9 presentations, in a typical 50-minute time block,
we have found that performing four pieces works best.
Because our ensemble plays nearly thirty different instruments, some of which are familiar and others quite novel,
we allot ample time to describe and demonstrate many of them.
We also field questions from the students,
drawing from each of our performers' rich backgrounds.
For our music-specific high school and college presentations,
we present a detailed overview of
different approaches to composing and arranging,
including our groundbreaking work
accompanying Sufi poetry, performed by
our spoken word artist/stage magician.
The use of various world instruments, as well as
the subtler use of electronic instruments,
also broaden the students' grasp of this truly
world-embracing musical ensemble, and the world-at-large.
HISTORY OF
LECTURE / DEMONSTRATIONS
2011
Sonoma State University
Jazz Forum Series
October 12th
2009
St. Edward School, Newark
February 26th

2004
Stanley Middle School, Lafayette
October 15th

West Coast Orff-Schulwerk Jazz Conference
The San Francisco School
July 29th

2002
Stanley Middle School, Lafayette
September 20th
LETTERS OF RECOMMENDATION

Dr. Douglas J. Leibinger is the Jazz Program Director at Sonoma State University and programs a celebrated roster of guest artists for his Jazz Forum series. In addition to teaching a huge range of classes at SSU, he is also a composer/arranger with extensive recording and touring credits, including work with jazz icons Maria Schneider and Randy Brecker along with pop legends Jimmy Buffett and Chayanne. His instruments include trombone, bass, keyboards, and baritone sax.
"The earPlay Jazzquintet provided Sonoma State University
with a unique performance and masterclass. Michael Smolens assembled a fantastically diverse and experienced group of musicians to interpret his multicultural compositions. He provided us with scores, recordings, and detailed program notes of his works in advance for the students to study, a gesture that is unprecedented in my experience. It was wonderful
that they could follow along with the performance and allowed for a deeper understanding and curiosity about
the music. There was also a stage magician! I highly recommend this ensemble for an appearance at your school or conference."

Bob Athayde is the Director of Music Education at Stanley Middle School and founder of the Lafayette Summer Music Jazz Workshop. He is a well-known public school maverick for the arts and has created a model music program. He is also a pianist, arranger, and bandleader who continues to perform with his group Surefire.
"For the second year, Michael Smolens brought a FABULOUS jazz and world music program to Stanley Middle School. The musicians in his "earPlay Jazzquintet" were able to keep the attention of over 400 students (not an easy task!) by tuning into the needs of our students— answering their questions, describing many of the two-dozen instruments they play, and introducing the various styles in which the music was composed.
The music that they played, plus the history that they shared, not only connected with the audience, but also directed everyone to cultures with whom we are not particularly familiar. These cultures— West African, Brazilian, Egyptian, North Indian— were highlighted musically along with the contributions of mainstream jazz and contemporary classical styles. A standout moment was when a guest artist recited a suite of beautiful 15th-century Middle Eastern poetry, while performing stage magic, all to a wonderfully imaginative musical score.
As the world gets increasingly smaller, from a cultural standpoint, the "earPlay Jazzquintet" is helping to foster greater understanding while heightening students' aesthetic awareness and creativity. I would highly recommend Michael Smolens and the "earPlay Jazzquintet" to any school who wants to enrich their students' and faculty's lives."
Recommendation (complete letter)
---

Doug Goodkin is a master teacher and teacher trainer,multi-instrumentalist, composer and author of five books on music education, including the revolutionary "Now's the Time: Teaching Jazz to All Ages" which incorporates the Orff Schulwerk system.
"Michael returned twice to my [teacher training] Jazz Course to present his ensembles, and was enthusiastically received both times. His recent show also includes a mesmerizing blend of music, poetry, and [stage] magic.
The greatest strength of his presentation is the quality of the music itself. The group consists of extremely talented musicians playing a wide variety of intriguing instruments in an equally wide variety of styles.
Michael and all of his musicians are articulate about their instruments, the styles they play, the cultural background that informs the pieces, and the very process of playing together. This makes for an engaging and informative experience for children and adults alike.
In an educational climate in which many children have little or no contact with the arts, experiences like this can open doors for a child and change his or her life. I give [them] my strongest recommendation."

Recommendation (complete letter)