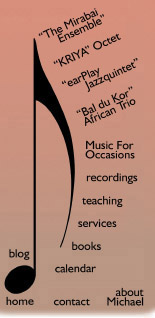 ..... The Mirabai Ensemble .....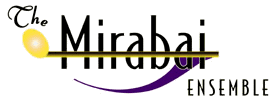 Highlights from our unique repertoire:


"Ze-Um Be Al-li-ah" — brings together the styles of Middle Eastern, Pakistani, and Western plainchant with extended jazz harmony, angular high-octane vocal lines, odd-time art rock, bird calls, and solo dance improvisation for an acappella tour de force.

"Jaco" — a dazzling vocal feature that summons the spirit of the legendary bassist Jaco Pastorius in which fretless electric bass, drum set, and world percussion are vocalized a cappella by three of our men.

"Three Phases Of The Moon" — a riveting story of three women's struggle to find peace and clarity that echoes the passion of Stephen Sondheim's works, accompanied by classical guitar, vibes, and acoustic bass.

"For No One" — a complete recasting of the Beatles' classic that shifts back and forth between funk, tango, and son montuno feels--watch as our three men lament on the subject of modern romantic meltdowns.

"Can't You See I'm Blue" — a hilarious trip through one person's crumbling reality by one of the most idiosyncratic modern composers, Art Lande — complete with improvised monologues.

"Sweet As The Breath Of Eden" — a 20-minute gospel suite extravaganza, moving the listener through hushed a cappella sections, wailin' hip-hop counterpoint, and surges of sound that come from 20 musicians giving it their all.