..... The Mirabai Ensemble .....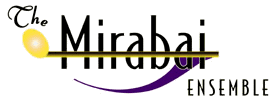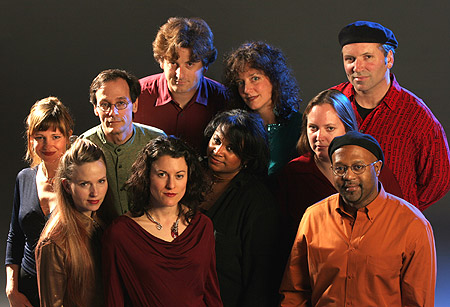 all photos : D. Ross Cameron / photoshoot director: Heather Rogers
(click here for hi-resolution 300dpi version)
Personnel

| | |
| --- | --- |
| Pollyanna Bush | soprano / dance |
| Becca Burrington | soprano |
| Valentina Osinski | mezzo-soprano |
| Alexis Lane Jensen | mezzo-soprano |
| Rocio Guitard | mezzo-soprano |
| | |
| | |
| --- | --- |
| Michael Smolens | tenor / vocal percussion |
| Christopher Nicholas | tenor |
| David Cohen-Tzedek | baritone / vocal percussion |
| Bryan Dyer | bass / tenor |

Description
THE MIRABAI ENSEMBLE is a groundbreaking ten-person vocal group that features a remarkable range of repertoire and improvisational styles. Imagine a group that can sing with the transparent, vibrato-less sound of a European early music group, and then effortlessly shift into extended vocal techniques such as vocal percussion, instrumental imitation, and overtone singing. They seamlessly slip between a full choral sound to a texture in which soloists rise and fall. Their sound blends perfectly with their instrumental accompanists, whether a solo cello or a rich 10-piece group.

More About The Ensemble...

Founded in 1993, the group was recently reinvented after a seven-year break. It features the Bay Area's most accomplished and creative vocalists. They have collaborated in live performances and recordings with some of the most important artists today, including: Bobby McFerrin, Rhiannon, Yo-Yo Ma, Dave Brubeck, Meredith Monk, Keith Terry's Slammin', SoVoSo, the gospel Sound Believers, Deutsches Symphonie Orchester, San Francisco and New York City Opera companies, and the Martha Graham Dance Company. They have appeared in every type of venue-- from television, video, ampitheaters, and opera houses, to jazz festivals, clubs, and cathedrals-- and are all composers and music directors.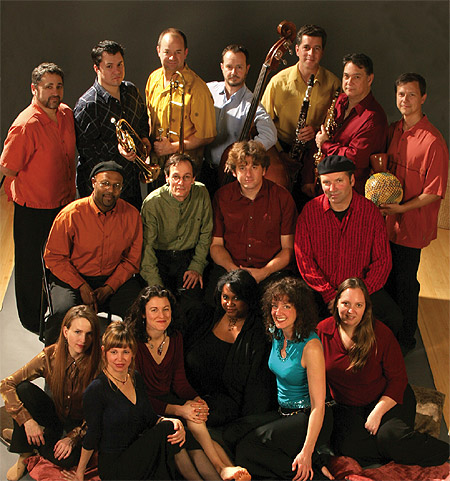 all photos : D. Ross Cameron / photoshoot director: Heather Rogers

The Mirabai Ensemble with the KRIYA Octet
(click here for hi-resolution 300dpi version)

Responses from Presenters
Rev. Bill Englehart
(Minister of Unity In Marin)
"I loved your music. I look forward to MIRABAI returning
to Unity In Marin."
(following the ensemble's two performances of September 17, 2006)
Dr. Helen Dilworth
(Vocal Instructor, City College of San Francisco
and the College of Marin)
"Since I've adjudicated many artistic competitions, such as
The California Arts Council and Grants To Touring Artists,
I can compare Michael Smolens and
'The Mirabai Ensemble' to the best in California.
They are wonderful performers, highly educational,
marvelously entertaining, and they make beautiful music
over an awesome range of styles".

Brenda Chinn
(Concert-Lecture Coordinator -
City College of San Francisco)
"Bravo! That was a spectacular performance.
Thank you all for an evening of
unique music and vocal improvisation.
Our City College audience thoroughly enjoyed
the entire program--the perfect showcase
of your extraordinary talent.
The workshop of the presentation was equally fine."

Doug Goodkin
(Orff Method pioneer & author, composer/arranger,
multi-instrumentalist)
"Michael returned twice to the West Coast Orff-Schulwerk
Jazz Conference to present his ['earPlay Jazzquintet'
and 17-person 'Mirabai' choral] ensembles
and was enthusiastically received both times."
Roni Priego
(teacher and event coordinator,
St. Edward School, Newark)
"The performances provided by The Mirabai Ensemble were outstanding! Our students were mesmerized by their rich vocals
and unusual imitations of instruments.
These accomplished musicians were an inspiration to all.
It was perfect for our K-8 school."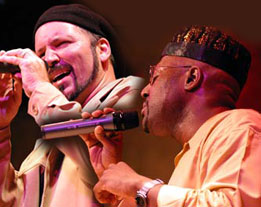 Quotes from Notable Musicians

"World class arrangements and music,
fiercely executed by some of the best
singers and musicians in the Bay Area.
This is vocal music that needs to be heard!"
—David Worm (long-time Bobby McFerrin collaborator/vocalist/composer/recording artist)

Press Quotes about the Band Leader


"Smolens' pieces are notable for their originality and beautifully spacious arrangements…"
—Tony Brooke, Critics' Choice SF Weekly


"One of the premiere Bay Area composers."
—Doug Edwards, KPFA Airtime and BAJABA Showcase host


"A creative figure on the Bay Area scene for the past two decades,
Smolens' music is marked by spaciousness and carefully calibrated instrumental voicings."
—Andrew Gilbert, Contra Costa Times Critic's Choice


"No ordinary composer… Smolens gives a broad palette from which to paint luminous ECM-like textures."
—Lee Hildebrand, East Bay Express Critic's Choice


"A treasure-trove of musical riches."
—Bud Spangler, Producer and host of See's Sunday Nights Sweets