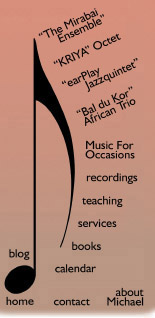 ..... The Mirabai Ensemble .....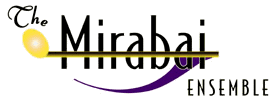 Michael Smolens
tenor / music director
(founder, ensemble member 1993-98/since 2005)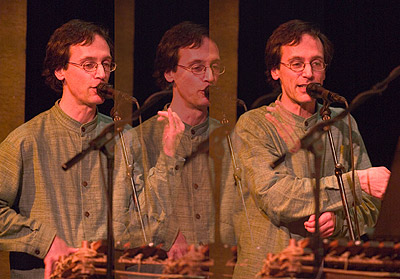 photo credit: D. Ross Cameron, montage by Jason Martineau
A composer, arranger, multi-instrumentalist, and vocalist for nearly four decades, Smolens' artistic sensibility freely incorporates colors, moods, and arranging concepts from a multitude of influences. His primary sources of inspiration include: contemporary jazz (Art Lande, Paul McCandless, Nguyên Lê), modern vocal flights (Bobby McFerrin), 20th-century classical (Brian Eno, Steve Reich, Gabriel Faure), North Indian Classical (Hindusthani), African music (West African, Afro-Cuban), modern Brazilian music (Egberto Gismonti, Heitor Villa-Lobos), accompanied Sufi poetry (Hafiz, Rumi), and stage magic (Jeff McBride).

Michael holds two music degrees from UC Santa Cruz, and has studied with some of the most innovative jazz teachers, including Art Lande, Allaudin Mathieu, and Kenny Werner. His works have been comissioned by Meet The Composer, National Public Radio, the Occidental Choir, UCSC Dance Dept., and numerous Bay Area solo vocalists. They've also appeared on the "Critics' Choice" lists for the S.F. Chronicle, S.F. Weekly, East Bay Express, KCSM-FM, and KPFA-FM.

Michael has recorded six CDs in various formats from duo to large ensembles. His recordings feature jazz legends Stefon Harris (vibes), Paul McCandless (reeds), and Zakir Hussain (tablas), and he has also performed and recorded with members of Bobby McFerrin's "Voicestra." His most recent release is with his jazz octet "Kriya – Live at Yoshi's". Additionally, he leads and arranges for jazz vocalist Paula Bradman and co-leads the Jewish music duo (with Biaja Solomon) The Batkas. His West-African trio Bal du Kor has performed extensively while both the Kriya Octet and earPlay Jazzquintet are soon to be releasing studio recordings of his works scheduled for late 2010.

Today, Michael is a senior-level teacher, and has been working with people from all backgrounds, skill levels, and interests for over three decades. He has published and lectured extensively on the art of practicing, and is adjunct faculty at Sonoma State University and JFK University.
---
Bryan Dyer
bass / tenor
(ensemble member since 2005)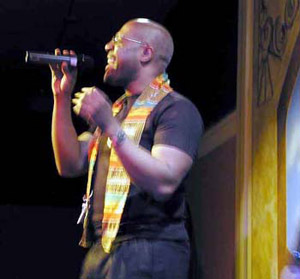 Bryan's musical career began at an early age when he sang in the children's choir at his church at the age of six and went on to learn trumpet, percussion, baritone horn, and piano. He then spent several years singing and training with the Oakland Youth Chorus (where he currently teaches) and began traveling to places such as British Columbia, Jamaica and Japan.

Bryan currently performs with several Bay Area groups including Street Sounds, SoVoSo, Chelle and Friends, Rankin' Scroo and Ginger, Slammin, and the R&B group 510. He has managed to travel the world and perform with or open for such artists as Michael McDonald, Ladysmith Mamabazo, and Bobby McFerrin to name a few. He has worked in radio, television and stage over the course of his musical career and is always seeking a new musical challenge whenever it presents itself.
---
Christopher Nicholas
tenor
(ensemble member since 2009)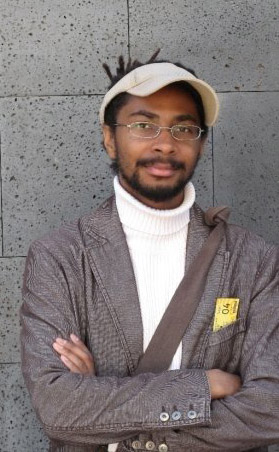 Christopher Nicholas has enjoyed an eclectic mix of musical opportunities. He has performed at the Weil Recital Hall in Carnegie Hall with the Grammy in the School's Tri-State Vocal Jazz Choir, as well as M.I.T's Killian Hall in Boston, MA as a featured soloist for the new music ensemble Running with the Potato. He has studied under many renowned music professors, such as: Kathryn Wright - a
Tanglewood fellow, Yale University Master's degree recipient and frequent soloist for the Metropolitan Opera, Marlon Saunders - who toured with Michael Jackson, Bobby McFerrin and Sting; and Rosana Eckert - a featured performer at the 2000 Thelonius Monk Aspen Jazz Colony and an adjunct professor at the University of North Texas.
Christopher has received a B.M in Songwriting and Vocal Performance from Berklee College of Music in Boston, MA. He was awarded the prestigious Berklee Achievement Scholarship and received an honorable mention for his original song, "I Write these Words" in the Berklee Songwriting Contest. In 2004, Christopher was granted the competitive Patsy C. & Fred W. Patterson
College of Music Scholarship to the University of North Texas. While in attendance, legendary jazz pianist Ahmad Jamal published his original song "I Write these Words". In addition, Nicholas was a featured soloist on the album "In Case you Missed it" with the U.N.T Jazz Singers directed by Paris Rutherford. In 2009, he completed his M.M in Jazz Studies.
Currently Nicholas works as a vocal coach and background singer for the Bay area hip-hop production team, Modus Operandus. He is also a lead vocalist in the hybrid hip-hop/classical music group, Ensemble Mik Nawaooj.
---
David Cohen-Tzedek
baritone/vocal percussion
(ensemble member since 2010)
David Cohen-Tzedek grew up in Tel Aviv where he was active as a bandleader, songwriter and choral singer, absorbing the variety of musical traditions alive in contemporary Israel. As a rock n' roll bandleader, David supplied guitars and vocals, wrote material and produced recordings for The Fluorescents — a hard rocking power trio that offered its listeners a panoramic view of pop music along with the effects of a built-in hyper-sensitive chaos detonator which would go off often and without warning —, and for The Brillianteens, a pop combo specializing in the accurate reproduction of rockabilly, garage, and 50's kitsch. This band held an ongoing residency at the renowned Cafe Tam in Tel Aviv, and performed as the house band in the TV rendition of Uri Fink's hit comic book series Zbeng! As a choral singer, David performed in the tenor sections of Avner Itai's Collegium Tel Aviv and of Yuval Ben Ozer's Philharmonia Singers, including performances at the Abu Gosh Festival and with the Israel Philharmonic.
In 1999 David moved to San Francisco, where he received instruction in improvisation from Fred Frith, in composition from W. A. Mathieu, and in voice from Lillian Loran and Christiaan Boele, and sang with the San Francisco Symphony Chorus. In 2006 David participated in Meredith Monk's professional training workshop at the Weill Institute, Carnegie Hall.
David has been serving as music director at Or Shalom Jewish Community in San Francisco since 2004, where he performs as cantorial soloist and directs the Or Shalom Music Ensemble. His original liturgical compositions and arrangements of traditional Jewish liturgical song — regularly featured at Or Shalom's services — upset the common boundaries of congregational musical leadership, offering the transformative qualities of high aesthetic experiences together with the liberating potentials of ecstatic communal music making.
---
Becca Burrington
soprano
(ensemble member since 1996-98/ since 2005)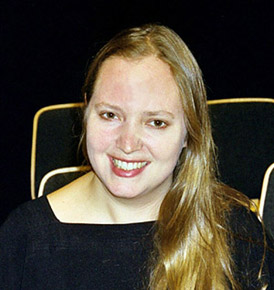 Becca Burrington graduated in trombone performance with honors at Oberlin Conservatory, where she received the Conservatory Dean's Talent Award. She also studied at Interlochen Arts Center and received the Governor's Scholar and Outstanding Brass Performance award. An active freelancer both on trombone and voice, she is the co-music director of Solstice, a female vocal sextet that features music written by women (or for women voices) from across the globe. Ms. Burrington has also been a frequent soloist with the Pacific Mozart Ensemble, an exceptional chorus that has premiered many contemporary scores by major composers such as Olivier Messiaen, Meredith Monk, and Dave Brubeck. Other performances have included the Silk Road Project with Yo-Yo Ma, San Franciso Sinfonietta, California Chamber Symphony, Women's Philharmonic, Aspen Festival Orchestra, Dulce Mambo (salsa), and the Montclair Women's Big Band. Becca has been featured on numerous recordings including the Bernstein Mass (with the Deutsches Symphonie Orchester), two CDs by Solstice, and trombone with the sketch comedy troupe Killing My Lobster. Ms. Burrington is on the faculty for trombone at the Community Music Center in San Francisco.
---
Pollyanna Bush
soprano / dance
(ensemble member since 2005)

Pollyanna Bush was born in Texas and began singing and improvising on the piano at age four. A year later she began singing in her first choir. Her travels eventually led her to Northern California, where she studied at College of Marin, Mills College, and San Francisco State University. She also studied with renowned teacher/composer/author Allaudin Mathieu and North Indian raga singer Pandit Pran Nath. Later, while living in New York, Pollyanna danced for Martha Graham, and explored collaboration with singer/composer Meredith Monk. She also directed and composed for the cutting-edge quartet Obiba which featured two vocalists, piano, synthesizer, bass, and tabla.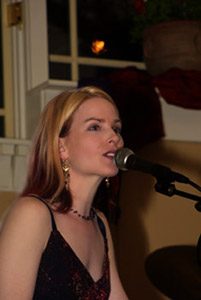 Recent awards and acclaim for Pollyanna include first place honors for Pollyanna's song "Innocent Heart" which just won the 2005 award for "Best Pop Song" in the West Coast Songwriters International Songwriting Contest, and "Best Song of the Year" for her newest song "Strange" in the West Coast Songwriters 2005 Open Mic Playoffs. Pollyanna has also received of The Marin Arts Council Individual Artists Grant.
Recognized as a powerful voice for peace, Pollyanna directs the 20-voice Marin Street Choir, which is devoted to singing songs of Truth and Peace. She has co-directed the 24-hour New Year's Vigils at Grace Cathedral in San Francisco, an event founded by Bobbie McFerrin and members of Voicestra. Pollyanna is Music Director and core faculty member for the Chaplaincy Institute of Creative and Healing Ministries in Berkeley, CA. Pollyanna has been a student of the Diamond Heart Approach to Spiritual Awakening for 12 years and was a student of Sufism 8 years prior to that. She brings her practice of presence and inquiry to all aspects of her work.

She teaches privately, specializing in creating the conditions that allow students to free their voices and express their essence. She offers workshops and corporate seminars that focus on the voice and improvisation as a vehicle for invoking Presence, and enhancing communication and cooperation. Her company is called Truth Works, where authenticity and passionate expression happen through live and recorded music works and educational programs.
---
Rocio Guitard
mezzo-soprano
(ensemble member since 2006)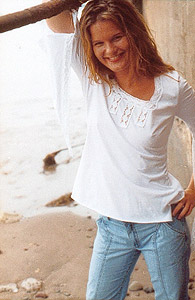 Rocío's sensual voice is an organic phenomenon and has captivated audiences in Europe and the United States. Her succinct conveyance of lyrics, surprise elements of scat and intense vocal control make Rocío a multi-faceted stylist of the highest caliber. She uses her voice as a multi-lingual instrument, and it is never the same song twice when she performs.
Rocío Guitard has a world of musical culture inside her head. A daughter of a Spanish mother and German father, she grew up with ears peeled for music and devoured all genres from flamenco to pop/rock, latin to jazz, and all sonic terrain in between. She began her musical odyssey as a child, studying piano and music theory in a conservatory setting in Spain. After listening to Jazz greats the likes of Ella Fitzgerald and Pat Metheny in her teens, she began exploring Jazz and eventually became a founding member of the Munich-based acapella swing quartet "The Funny Valentines", as vocalist and arranger. At the same time she toured Central Europe with jazz guitarist Titus Waldenfels, singing standards, be-bop and bossa-nova. German press called her "...breathtaking, wonderful and brilliant..." (Sueddeutsche Zeitung). In 1998 she headed over to the US to take her musical career to the next level.
Her debut CD, Mosaïque, released in April 2002 was entirely written and produced by Rocío on rGr Records. It features legendary musicians Howard Wales (The Grateful Dead, Harvey Mandell) and Terry Haggerty (Sons of Champlin). NCSA's Song Contest 2002 awarded the tracks "All Of You" with Best Jazz and "No Tengas Miedo" with Best World, and gave an honorable mention to "Ironically Blue". She is currently back in the recording studio working on her sophomore album, produced by Jerry Stucker and Tom Disher.
---
Valentina Osinski
mezzo-soprano / assistant music director
(ensemble member since 2005)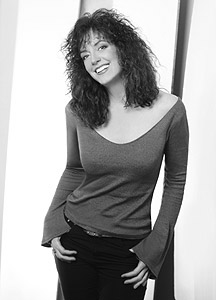 Valentina Osinski's "golden mezzo" (San Francisco Examiner) has graced the stages of San Francisco Opera, New York City Opera, Opera Theatre of St. Louis, the San Francisco Symphony, Midsummer Mozart, Eugene Opera, and other companies through out the United States. Regional finalist for the prestigious MacAllister Awards and a winner of Marin Symphony's Wishard A. Brown award, Ms. Osinski is far more than an opera singer--she has also performed at other notable non-operatic venues including The Tonight Show with Jay Leno, MTV, the Fillmore Auditorium, the Shoreline Ampitheater, Villa Montalvo, and the Palace of Fine Arts, appearing with artists as diverse as John Cale (Velvet Underground), Dana Carvey, George Benson, Todd Rundgren, and Helen Hunt.
As an actress, she created the role of "Maria" in the world premier of Charles Mee's "Summertime" at the Magic Theatre. She also co-founded and arranged for San Francisco's acclaimed a capella group, The Screaming Divas, garnering the Best Arrangement award from the Harmony Sweepstakes competition for her a capella take on Ravel's Bolero. As a studio vocalist, she has contributed to numerous recordings in San Francisco and New Orleans, in addition to national radio jingles and television shows. Ms. Osinski earned a BS in Mechanical Engineering, which led immediately to her degree studies in Vocal Performance. Also a song writer, photographer, and oil painter, she is dedicated to the art of the human voice and to the power of music to bring about transformation.
---
Alexis Lane Jensen
mezzo-soprano
(ensemble member since 2006)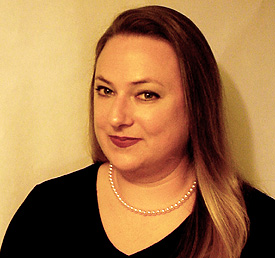 Alexis was raised by a church organist mother who also conducted a local singing group (the Point Richmond Madrigal Singers) and sang with various local choruses. She has fond memories of hearing everything from the Beatles, Steely Dan and Blood, Sweat & Tears to Mussorgsky, Ravel, Pachelbel and Orff's "Carmina Burana" played on the home stereo, and her mom playing Joni Mitchell and Carole King on the piano. How could she NOT grow up singing? After a youth filled with time spent in community musical theater, high school vocal jazz ensembles, CMEA All-State Jazz Choruses, UC Berkeley's Young Musicians Program and the Oakland Youth Chorus, she went on to study voice at the San Francisco Conservatory of Music and California Institute of the Arts. After leaving CalArts and returning to the Bay Area, Alexis put her new found love of Cabaret style music to work by performing the works of Brecht, Weill, Eisler and others with a small combo in various local venues such as the Café du Nord, Above Brainwash and the Exit Café. She's also a Prize Winning Karaoke Artist and won 1st Prize in a Leonard Cohen Songbook Contest sponsored by Sony and the Paradise Lounge. She could also be found in the Soprano section of the San Francisco Symphony Chorus under the baton of Herbert Bloomstedt for several seasons.

Meanwhile, she has also ventured into the Contemporary Opera world, having sung with Oakland Opera Theater in Akhnaten (Glass), The Rake's Progress (Stravinsky) and White Darkness (Prokofiev/Dean), the Exit Theater in Three Sisters Who Were Not Sisters (Stein/Rorem) and the Berkeley Opera in Bat out of Hell (Strauss) and the World Premiere of Chrysalis (Suprynowicz). Sprinkle throughout the years several collaborative performances--the West Coast premiere of Danny Elfman's Serenada Schizophrana with the Santa Rosa Symphony, ODC Pilot program with choreographer Lisa Russ and the World Premiere of Bitter Harvest by Kurt Rhode with Kent Nagano and the Berkeley Symphony to name a few. Most recently, Alexis joined the Pacific Mozart Ensemble and was extremely blessed to sing with them at Carnegie Hall in a concert celebrating Meredith Monk's 40th Anniversary and with a smaller PME ensemble (under the leadership of fellow MIRABAI member Eric Freeman) at Zellerbach Hall with Indie/Alternative rocker Sufjan Stevens.

Last, but not least, she runs her own uniquely personalized singing telegram service, Divagram.
---