..... The Mirabai Ensemble .....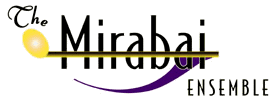 Audio Samples
Sweet as the Breath of Eden
(hip-hop) 3:41
Ze-Um Be Al-li-ah (part 1)
(neo-Medieval) 2:57
Ze-Um Be Al-li-ah (part 2)
(Eastern European/art rock) 3:01
Colours of Grace *
(jazz ballad) 3:04
Flight From the Self
(contemporary classical) 1:51
R.C. II
(pattern) 2:41
Air India
(North Indian) 1:48
My First Piano Lesson
(theatre improvisation) 1:42


All compositions copyright ©2010 Michael Smolens and Second Sight Music
except * by Joel Harrison.