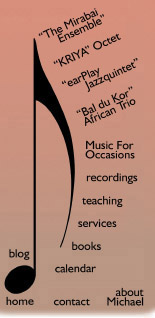 ..... The Last Rendezvous.....
Audio Samples
A pristine balance of jazz, pattern, and classical styles... intimate solo piano pieces to rich multi-layered landscapes.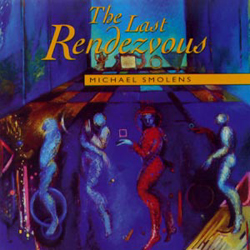 RC II
2:20
Lullaby for M
2:00
The Last Rendezvous
2:41
Inside You
1:45
Lament of the Banshees
2:31
His First Words
1:26
Tara's Secret
1:28
Lunar Magic
2:29
This CD features world-renowned tabla maestro Zakir Hussain and Oregon reed player Paul McCandless. This recording also features two dozen of the finest Bay Area musicians, including:

Zakir Hussain - tabla
Paul McCandless - pennywhistle, soprano sax, oboe, english horn, bass clarinet
Paul Hansen - bassoon
Steve Erquiaga - classical and electric guitars
Pollyanna Bush - voice and text setting
Glen Cronkite - percussion
Emil Miland - cello
Matt Eakle - C and alto flutes
Michael Smolens - piano, synthesizers, percussion


(Other instruments on this recording include:
vibes, celtic harp, trumpets, clarinets, saxophones,
female vocal ensemble, and male voice.)



These works reflect a particular aspect of my writing, namely my interest in the marriage of jazz harmony, classical counterpoint/form, and pattern music, all treated very romantically. The particular colors you'll hear on this recording were chosen for their sweetness, delicacy, and transparency. (An example of this can be heard in the last track "Lunar Magic," in which I placed a small bracelet across the piano strings to evoke the title of the piece.) These works were all conceived in the Eighties, while at the same time I was writing for and performing with my more muscular jazz sextet "KRIYA."


All compositions copyright ©1998-2004 Michael Smolens and Second Sight Music,
except for "Lament of the Banshees" by Vivian Q. Sayles (A Moment in Time Publishing).