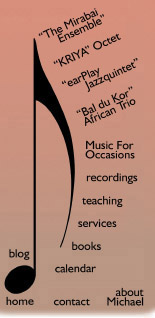 Highlights from our unique repertoire:


"Essentions" — beneath the tune's pop sensibility is a rich mix of simultaneous melodies, odd meters, and illusive bridges that is the title track of the band's second CD.

"Six To Five" — this up-tempo modal swing number in 11/8 is as close to incline skiing as you'd care to imagine!

"Summer Highlands" — a West African inspired work that brings the whole continent right to your very door, complete with indigenous talking drum', 'balafon' (marimba), and a horn section that feels like a tidal wave...

"Russelling And Bobbing" — still my favorite small group composition to date, the piece's two rhapsodic melodies weave through a series of drum solos as the piece forever fades.

"Lavalava" — an epic 20-minute adventure of West African rhythms meeting large-scale jazz architecture, the title refers to the individuality of the band's musical message.

"The Island That Wept" — audiences consistently cite this piece as the quintessential 'ever-changing musical landscape', complete with languid melodies and a lush setting for the work's arching drum solo.

"Sweet Pepper" — one funky samba that sets everyone's ear on its side with an infectious groove and seductive melody.

"Through Nora's Eyes" — this wistfully romantic duo for piano and soprano sax is dedicated to the Norwegian housewife that the vocal legend Rhiannon 'channels' in her performances.