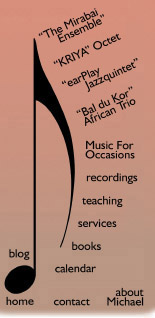 Band Biographies and Photos


Michael Smolens
piano, voice, West African balafon, alto flute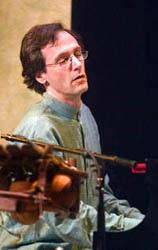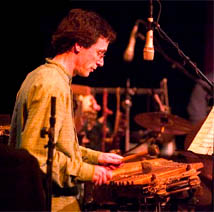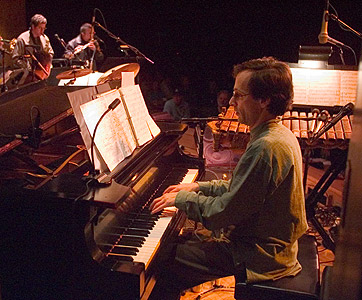 A composer, arranger, multi-instrumentalist, and vocalist for nearly four decades, Smolens' artistic sensibility freely incorporates colors, moods, and arranging concepts from a multitude of influences. His primary sources of inspiration include: contemporary jazz (Art Lande, Paul McCandless, Nguyên Lê), modern vocal flights (Bobby McFerrin), 20th-century classical (Brian Eno, Steve Reich, Gabriel Faure), North Indian Classical (Hindusthani), African music (West African, Afro-Cuban), modern Brazilian music (Egberto Gismonti, Heitor Villa-Lobos), accompanied Sufi poetry (Hafiz, Rumi), and stage magic (Jeff McBride).

Michael holds two music degrees from UC Santa Cruz, and has studied with some of the most innovative jazz teachers, including Art Lande, Allaudin Mathieu, and Kenny Werner. His works have been comissioned by Meet The Composer, National Public Radio, the Occidental Choir, UCSC Dance Dept., and numerous Bay Area solo vocalists. They've also appeared on the "Critics' Choice" lists for the S.F. Chronicle, S.F. Weekly, East Bay Express, KCSM-FM, and KPFA-FM.

Today, Michael is a senior-level teacher, and has been working with people from all backgrounds, skill levels, and interests for almost four decades. He has published and lectured extensively on the art of practicing, and is adjunct faculty at Sonoma State University and JFK University.

Michael has recorded six CDs in various formats from duo to large ensembles. His recordings feature jazz legends Stefon Harris (vibes), Paul McCandless (reeds), and Zakir Hussain (tablas), and he has also performed and recorded with members of Bobby McFerrin's "Voicestra." His most recent release is with his jazz octet "Kriya – Live at Yoshi's". Additionally, he leads and arranges for New American Songbook Project (which features jazz vocalist Rocio Guitard), and co-leads the Jewish music duo (with Biaja Solomon) The Babkas. His West-African trio Bal du Kor has performed extensively while both the Kriya Octet and earPlay Jazzquintet are soon to be releasing studio recordings of his works scheduled for late 2013.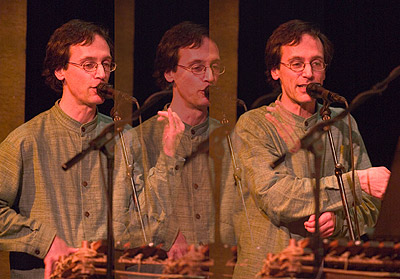 all photos by D. Ross Cameron, montage by Jason Martineau

Alan Hall
drums, West African djun djuns, dumbek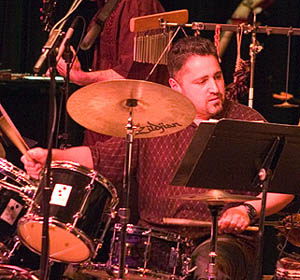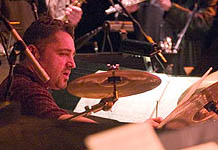 Alan is the band's rhythmic and conceptual anchor. A full concert reveals his ability to solo in many different contexts and accompany with the greatest acumen. He has played and/or recorded with: bassists Stuart Hamm, Brian Torff and Kai Eckhardt; guitarists Larry Coryell, Mick Goodrick and Joyce Cooling; saxophonists Ernie Watts, Paul McCandless, Bob Mintzer, John Handy, Jerry Bergonzi and Eddie Harris; trumpeter Bobby Shew; pianists Art Lande, Billy Childs, Tom Coster, Kit Walker and Smith Dobson; and vocalists Mark Murphy and Rebecca Parris.

Alan's work has been heard on jazz radio stations nationally and his original compositions have been recorded and released on the Blue Crescent and Polymorph record labels. His performances have been aired on B. E. T.'s Jazz Discovery Series and KRON TV's Daybreak.

He is currently a member of several groups including Ray Brown's Great Big Band, Dave Eshelman's Jazz Garden Big Band, and Sheldon Brown's Quintet.

He is a faculty member of The Jazzschool in Berkeley, CA. and a participating faculty member of The Brubeck Institute, University of the Pacific, Stockton. CA. He was previously a member of the percussion faculty at Berklee College of Music in Boston from 1986-1993, and the University of California at Berkeley from 1998-2000.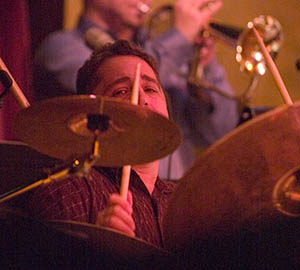 all photos by D. Ross Cameron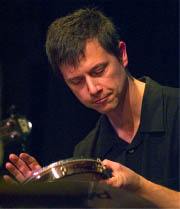 Brian Rice is a a freelance percussionist with a B.M. in Percussion Performance and Ethnomusicology from the Oberlin Conservatory of Music. His extensive experience as a performer, educator, and recording artist perfectly complements the wide ranging vision of the "earPlay Jazzquintet": flowing from North Indian tabla to African shakere to drum set within one piece is simply not a problem for him.

Brian's style range goes from jazz, to Afro-Cuban, Brazilian and North Indian, to contemporary classical and experimental music. Some of the artists that he has performed with are The Paul Winter Consort, Donald Byrd, Sonando, Balafon Marimba Ensemble, and Wake The Dead, while his recording credits include Steve Gadd, Tony Levin, Mike Marshall, and Jay Thomas. Brian has taught workshops throughout the country at Queens College, Oberlin College, Lewis and Clark College, Portland State University, and continues to coach privately in the East Bay.
photo credit: D. Ross Cameron

Fred Randolph
acoustic and fretless electric bass


As a youngster in Honolulu, Fred Randolph's his main interest was surfing, but gradually he gravitated toward music. He has studied and performed on guitar, saxophone, clarinet, flute, and trumpet but decided to focus primarily on acoustic and electric bass. After spending two seasons with the Diablo Symphony, Fred pursued a Masters Degree in composition from Hayward State. He co-led the jazz quintet "The Zone" for several years, composing much of the music for that group's first CD "Grand Canyon Blue." Fred recently recorded his first solo CD entitled "Learning Curve."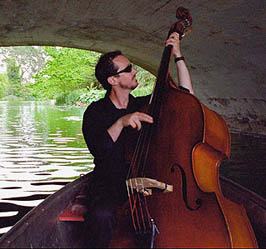 As a composer/arranger/multi-instrumentalist, Fred brings a unique perspective to the wide ranging material of "earPlay". He has performed with many of the Bay Area's finest jazz artists, including: Bruce Forman, Vince Wallace, Graham Connah, Akira Tana, Art Hirahara, Scott Amendola, and Jeff Massanari. Vocal luminaries such as Kenny Washington, Faye Carol, Frankye Kelly, Brenda Boykin, and Bobbe Norris have also experienced his sensitive and supportive playing. In addition he is busy on the Latin circuit, performing with: Sandy Cressman's "Homenagem Brasileira", Marcos Silva's "Intersection", Phil Hawkin's "Carribean Jazz Ensemble", Tito Garcia's "Oquestra la Internacional" and many others. As a faculty member with U.C. jazz ensembles, Fred performed in clinics with guitarist John Scofield and saxophonist Bob Shephard. Currently, Fred teaches privately and jazz combo/bass at Stanley Middle School, Lafayette, and at Diablo Valley College.

Erik Jekabson
trumpet, flugelhorn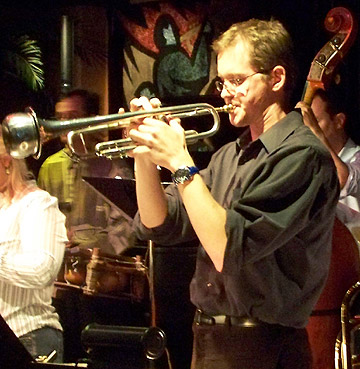 photo credit: Gabe Kyne

Erik is a Bay Area Musician, currently living in North Berkeley. He graduated in May 2006 from the San Francisco Conservatory of Music with a master's degree in composition and is now working as a freelance composer, arranger and trumpeter, leading his own bands as well as playing with bands like the Realistic Orchestra, Mitch Marcus Quintet +13 and the Contemporary Jazz Orchestra. Erik also teaches at the Jazzschool in Berkeley, the Waldorf school in San Francisco and has given clinics at Santa Rosa Junior College and Loyola College of New Orleans.
Erik moved to San Francisco in July 2003 after spending the last five years in Brooklyn, New York, and putting out his debut solo CD "Intersection" on the Fresh Sound/New Talent label. His groups performed in venues such as The Knitting Factory, the Cornelia Street Cafe, HERE Performing Arts Space, and Jazz at Detour. He also was a member of the Howard Fishman Quartet, which performed their music in such venues as the Oak Room at the Algonquin Hotel, Joe's Pub at the Public Theater, and the Steppenwolf Theatre in Chicago, as well as touring throughout the northeast. Erik also played with singer/songwriter Amy Kohn, Justin Mullen's Delphian Jazz Orchestra, jazz singer Vanessa Trouble, the Sean Smith Quartet, the Illinois Jacquet Big Band, in the Off-Broadway show "The Jazz Singer", and spent a year on the road with pop singer John Mayer.
As a composer, Erik graduated with honors in orchestration from the conservatory, and also won the Conservatory's 2004 Kris Getz award (for composing for young musicians) and won 3rd place in the SFCM art song competition. He's scored music for the award-winning documentary "Radio Grito" and orchestrated for the Trinity Lyric Opera Company.

Joel Behrman
trombone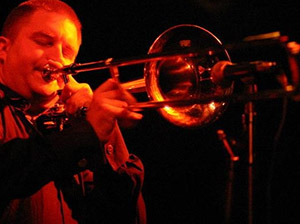 Joel Behrman has been working for over 5 years with such prestigious local ensembles as the Contemporary Jazz Orchestra, Realistic Orchestra and the Glide Change Band. A graduate of University of Miami, he has appeared with such artists as Natalie Cole, Joe Lovano, Wynton Marsalis, Jimmy Heath, Slide Hampton, Maria Schneider, The Four Tops, The Temptations, The Ohio Players, The Funk Brothers, and well as touring for 5 years with K.C. and the Sunshine Band. He is not only in demand as a first-call trombonist, but also has the distinction of being a very capable doubler and improvisor on both the trumpet and flugelhorn. He leads his own ensemble, serving as the primary writer and arranger.


Alex Murzyn
soprano, alto, & tenor saxes / C & alto flutes / bass clarinet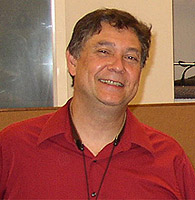 Alex Murzyn has been a major saxophone/flute/clarinet force in the Bay Area for well over a decade. His versatility and passion has lead him to play with leading artists in traditional and contemporary jazz, soul, rock, funk, and different flavors of Latin.

His music was shaped in part through his private studies with jazz legends Dave Liebman and Jerry Bergonzi at the Berklee College of Music. Further studies included work with symphonic teachers on flute and clarinet. Alex has chosen to return this gift in the form of his private, workshop, and school teaching throughout the Bay Area.

Mr. Muryzn has performed with jazz greats Freddie Hubbard, Bobby Hutcherson, Arturo Sandoval, Ben Vereen, the Dizzy Gillespie Big Band, and Sammy Davis Jr.; jazz-fusion artists Ray Obiedo, Russ Ferrante (of the Yellowjackets), and legendary bassist Stanley Clark; and pop favorites the Temptations, the O'Jays, and Huey Lewis and the News (with whom he toured).

Alex has released three CDs as a leader under the Kamei and Monarch labels. (His recent recording with the Machete Ensemble was nominated for a Grammy in 2003). He can also be heard on recordings with local luminaries Pete Escovedo, Rebecca Mauleon, Mark Little, Mike Vax Big Band and Benny Rietveld.

Kristen Strom
soprano, alto, & tenor saxes / C & alto flutes /
bass clarinet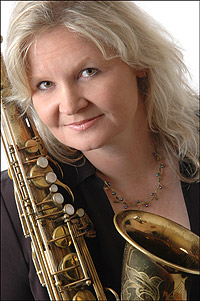 In addition to leading her own ensemble, the Kristen Strom Quintet, she is an integral part of some of the San Francisco Bay Area's leading bands. She has performed with many well-known artists, including Manhattan Transfer, Roberta Flack, Johnny Mathis, Jimmy Heath, Steve Turre, Kevin Mahogany, Michel LeGrand, the San Jose Symphony, the Temptations, Natalie Cole, The Four Tops, and the San Francisco Production Beach Blanket Babylon.
In addition to her solo album, "Intention", she has recorded more than 25 CDs with various jazz and pop artists, including John Worley and Worlview, Ed Johnson and Novo Tempo, Wally Schnalle, Burning Bridges, Tim Volpicella and Gail Dobson and four albums with The Nuclear Whales Saxophone Orchestra. Her touring schedule has included performances across the U.S., Canada, Europe and Asia with the Nuclear Whales and others.
Kristen is saxophone instructor at Santa Clara University, is on the faculty of the Stanford Jazz Workshop and is the Education Consultant for the San Jose Jazz Society.
Ms. Strom has a B.A. in Music from San Jose State University, as well as graduate studies in music education, and studied saxophone and woodwinds with Joe Henderson, Mel Martin and Victor Morosco.
Kristen is an endorsing artist and clinician for Selmer saxophones.