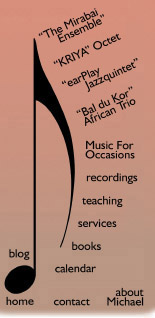 ..... earPlay Jazzquintet .....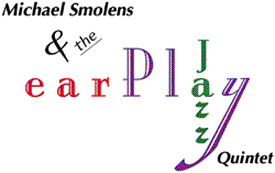 Highlights from our unique repertoire:


"Hafiz" — an award-winning female magician recites a suite of 15th-century Sufi poetry while performing enchanting sleight-of-hand magic effects that amplify the text — all of which accompanied by a moving jazz chamber score...

"Jaco" — a dazzling vocal feature that summons the spirit of the legendary bassist Jaco Pastorius, in which fretless electric bass, drum set, and world percussion are consummately vocalized — joined by the rapid-fire cued interplay of dumbek, tambourine, and shaker…

"Rasa and Her Moods" — traditional North Indian hues (tabla, tamboura, harmonium, voice) are masterfully meshed with Western colors (piano, organ, tenor sax, electric bass, drum set, sampled sound effects) in a burning fusion outing...

"Balafon" — a Guinean marimba is teamed up with vibes, soprano sax, tabla, percussion, and upright bass to bring Afro-Cuban and West African styles into a fascinating canonic jaunt...

"Germ-Line Genetics" — this multi-movement, programmatic suite takes on the all-too-possible dangers of genetic research and incorporates an arsenal of electronic and extended acoustic instruments to illuminate this Brave New World...
"Tuning Glass" — listeners are transported into a mesmerizing world of pure pattern music where illusive rhythms are superimposed over one another; tablas and piano glide in 11/8, while soprano sax, vibes, bass clarinet, and voice dance their own rhythms side-by-side in 14/8.
"Crossing Point Towner" — a suite imbued with the spirit of iconic composer/guitarist Ralph Towner, though the sound worlds of Jack DeJohnette, Jan Garbarek, John Taylor, and Steve Reich equally mingle; the 12-string guitar and artificial harmonics are the foundation of this compelling suite, alternating between moments of serene counterpoint, pop melodies, all-out-soloing, and a truly elegiac ending.
"It's Not My Fault" — what better vehicle is there to talk about 'the blame game' and taking personal responsibility than a 12-bar blues ? This light-hearted stroll still gets down with some serious soloing and a shout chorus that brings in the spirit of Illinois Jacquet !