Michael Smolens
piano / synthesizers / voice / balafon / alto flute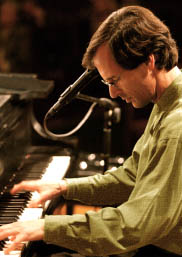 A composer, arranger, multi-instrumentalist, and vocalist for nearly four decades, Smolens' artistic sensibility freely incorporates colors, moods, and arranging concepts from a multitude of influences. His primary sources of inspiration include: contemporary jazz (Art Lande, Paul McCandless, Nguyên Lê), modern vocal flights (Bobby McFerrin), 20th-century classical (Brian Eno, Steve Reich, Gabriel Faure), North Indian Classical (Hindusthani), African music (West African, Afro-Cuban), modern Brazilian music (Egberto Gismonti, Heitor Villa-Lobos), accompanied Sufi poetry (Hafiz, Rumi), and stage magic (Jeff McBride).

Michael holds two music degrees from UC Santa Cruz, and has studied with some of the most innovative jazz teachers, including Art Lande, Allaudin Mathieu, and Kenny Werner. His works have been comissioned by Meet The Composer, National Public Radio, the Occidental Choir, UCSC Dance Dept., and numerous Bay Area solo vocalists. They've also appeared on the "Critics' Choice" lists for the S.F. Chronicle, S.F. Weekly, East Bay Express, KCSM-FM, and KPFA-FM.

Michael has recorded six CDs in various formats from duo to large ensembles. His recordings feature jazz legends Stefon Harris (vibes), Paul McCandless (reeds), and Zakir Hussain (tablas), and he has also performed and recorded with members of Bobby McFerrin's "Voicestra." His most recent release is with his jazz octet "Kriya – Live at Yoshi's". Additionally, he leads and arranges for jazz vocalist Paula Bradman and co-leads the Jewish music duo (with Biaja Solomon) The Batkas. His West-African trio Bal du Kor has performed extensively while both the Kriya Octet and earPlay Jazzquintet are soon to be releasing studio recordings of his works scheduled for late 2010.
Today, Michael is a senior-level teacher, and has been working with people from all backgrounds, skill levels, and interests for over three decades. He has published and lectured extensively on the art of practicing, and is adjunct faculty at Sonoma State University and JFK University.

Over the last ten years, Michael has been creating the most comprehensive list of entertaining and obscure tune titles known to anyone on the Left Coast.
photo credit: D. Ross Cameron
---
Alex Murzyn
soprano, alto, & tenor saxes / C & alto flutes / bass clarinet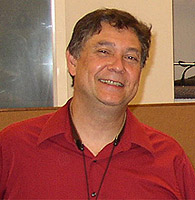 Alex Murzyn has been a major saxophone/flute/clarinet force in the Bay Area for well over a decade. His versatility and passion has lead him to play with leading artists in traditional and contemporary jazz, soul, rock, funk, and different flavors of Latin.

His music was shaped in part through his private studies with jazz legends Dave Liebman and Jerry Bergonzi at the Berklee College of Music. Further studies included work with symphonic teachers on flute and clarinet. Alex has chosen to return this gift in the form of his private, workshop, and school teaching throughout the Bay Area.

Mr. Muryzn has performed with jazz greats Freddie Hubbard, Bobby Hutcherson, Arturo Sandoval, Ben Vereen, the Dizzy Gillespie Big Band, and Sammy Davis Jr.; jazz-fusion artists Ray Obiedo, Russ Ferrante (of the Yellowjackets), and legendary bassist Stanley Clark; and pop favorites the Temptations, the O'Jays, and Huey Lewis and the News (with whom he toured).

Alex has released three CDs as a leader under the Kamei and Monarch labels. (His recent recording with the Machete Ensemble was nominated for a Grammy in 2003). He can also be heard on recordings with local luminaries Pete Escovedo, Rebecca Mauleon, Mark Little, Mike Vax Big Band and Benny Rietveld.
---
Michael Hatfield
vibes / "marimba lumina" / sampler / accordion / percussion / voice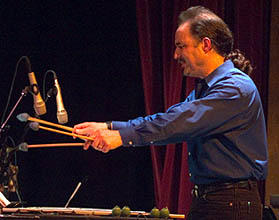 A refugee from Bowling Green, Ohio, Michael Hatfield entered Nirvana when he was picked up hitchhiking by premiere four-mallet vibraphonist Gary Burton. This began his involvement at the Berklee College of Jazz. Along with his work with flute and voice, Michael jammed and studied next to the likes of Pat Matheny, Mike Stern, Steve Vai, and Vinny Caliuta. It was an easy step from school onto the road, touring with Jay Azzolina and Steve Cantor, and eventually landing a job back at Berklee teaching vocal improvisation, small band, ear training and theory.

Since moving to California Michael has played in many interesting far-ranging groups, including Frank Macchia's 'cartoon fusion' band "Booga-Booga", donned a strap-on keyboard for his 80's 'hair band' "Runnerz", and doled out fusion with "The Ensemble." Yet his most enduring oufit remains "The Fabulous Bud E. Luv Show." This group was created in 1988 as an offshot of Robert Vicker's alter ego, Bud E. Luv, a lounge singer who wrote every hit you can think of and taught Frank, Dino and Sammy their shticks. Starting as an alternate to the Dino's at San Francisco's Paradise Lounge, the quirky and hilarious show became a hit on its own right and soon gained national recognition, including appearances on MTV, VH-1 and the Today Show. (Ozzy Osborne even asked them to perform lounge versions of his songs at his re-nuptials). More than 15 years later, The Fabulous Bud E. Luv Show is still going strong.

Alternating three or four instruments within one "earPlay" composition is not uncommon for him and reveals his complete versatility. He leads several bands that cover everything from rock and country to jazz and electronica. Michael is also well-known in the music community for his company Hatfield & Walker--a sound, lighting, and backline business. Yet he still finds time to cultivate a sweet life with his wife, Valerie, and three dogs, four cats, innumerable kittens, and three unidentified wild creatures that play guitar, bass and drums, all in sunny South San Francisco.

Mr. Hatfield is hands-down, the funniest Music Biz storyteller in Northern California...
photo credit: D. Ross Cameron
---
Fred Randolph
acoustic & electric basses & guitars / soprano sax / clarinet / percussion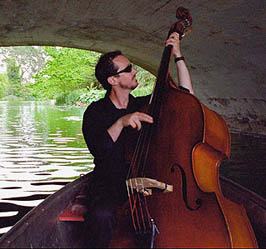 As a youngster in Honolulu, Fred Randolph's his main interest was surfing, but gradually he gravitated toward music. He has studied and performed on guitar, saxophone, clarinet, flute, and trumpet but decided to focus primarily on acoustic and electric bass. After spending two seasons with the Diablo Symphony, Fred pursued a Masters Degree in composition from Hayward State. He co-led the jazz quintet "The Zone" for several years, composing much of the music for that group's first CD "Grand Canyon Blue." Fred recently recorded his first solo CD entitled "Learning Curve."

As a composer/arranger/multi-instrumentalist, Fred brings a unique perspective to the wide ranging material of "earPlay". He has performed with many of the Bay Area's finest jazz artists, including: Bruce Forman, Vince Wallace, Graham Connah, Akira Tana, Art Hirahara, Scott Amendola, and Jeff Massanari. Vocal luminaries such as Kenny Washington, Faye Carol, Frankye Kelly, Brenda Boykin, and Bobbe Norris have also experienced his sensitive and supportive playing. In addition he is busy on the Latin circuit, performing with: Sandy Cressman's "Homenagem Brasileira", Marcos Silva's "Intersection", Phil Hawkin's "Carribean Jazz Ensemble", Tito Garcia's "Oquestra la Internacional" and many others. As a faculty member with U.C. jazz ensembles, Fred performed in clinics with guitarist John Scofield and saxophonist Bob Shephard. Currently, Fred teaches privately and jazz combo/bass at Stanley Middle School, Lafayette, and at Diablo Valley College.

Fred is, once again, finding his experience with surfing useful now that he is playing eight instruments with the "earPlay Jazzquintet."
---
Brian Festa
drum set / tabla / percussion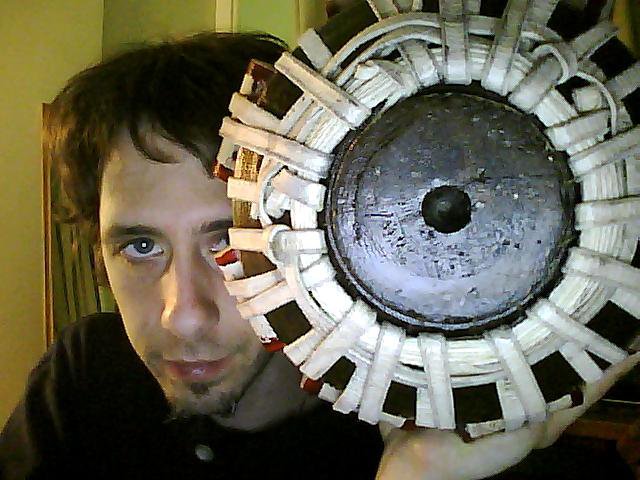 Brian Festa been playing and performing for over 20 years and his rhythmic curiosity has taken him to every corner of the U.S. as well as studying in the Netherlands, Croatia, Hungary, Turkey, and India. He has been teaching for a dozen years and in 2007 created a community teaching space in Asheville, North Carolina to implement a unique curriculum that he designed. He teaches all ages on a variety of percussion, stringed, and other melodic instruments and describes teaching as "beautifully challenging".
In 2012, Brian settled in the East Bay to teach, perform, and collaborate with rich high diversity of artists, including Stu Allen and Friends (classic rock), sitarists Kari Field and Hasu Patel, vocalist Kankana Banerjee (classical indian), and Kirtan leaders Rudra Sundari and Stephanie Winn. Brian has appeared at Askenaz, Cafe du Nord, Yoga Society of San Francisco, The Presidio, Teripin Crossroads, and the California Jazz Conservatory.
He is currently enrolled at the California Jazz Institute and is the newest member of the ensemble.
---
guest artist Heather Rogers
spoken word / stage magic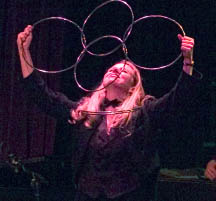 Heather Rogers is a full-time professional magician and the winner of the 1999 "Women in Magic Award" in Las Vegas. Heather has performed her close-up and stage magic at over 2,000 public and private events throughout Northern California.

Heather has written and performed several unique solo shows, including "Real Magic" - a play about a fallen faery looking for redemption in the strangest places (premiered at the Shelton Theater in San Francisco), "Magic Now " - the world's first Slapstick-Dominatrix-Magician speaking out (performed at Venue 9's Women's Work Theater Festival), and "An Evening with Heather Rogers" - a stand-up comedy/magic show (performed at the "Wonder Dome" in Las Vegas). She is currently developing "The Spiritualism Show", a mulit-character spoof of Victorian channelers while dressed in a full Victorian gown.

Ms. Rogers has also performed at trade shows for corporations such as American Express, Price-Waterhouse-Coopers, and the Nurse Recruiters Association while other clients include Cisco, San Francisco 49'ers, and Fidelity National Title.

Despite her firm belief in aliens, she has never personally seen one. She does, however, regularly 'channel' evil pagan pixie trixters.
photo credit: D. Ross Cameron