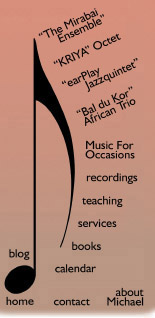 ..... music for occasions.....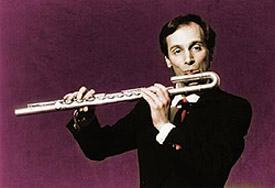 Solo Options with
Michael Smolens
• Piano
• Keyboard (realistic piano, vibes, acoustic
guitar, harp, and organ sounds)
• Vocals
• Alto Flute
• Melodic World Percussion
(subtle melodic instruments,
including the West African balafon,
tone drum, and djun djunes,
Caribbean steel pans, and
Egyptian dumbeck)
---
"The staff and their guests were really impressed
and delighted at the variety of instruments you played.
The steel drums and African percussion were very sweet
and melodic, not at all harsh. And your keyboard had
a guitar sound that was perfect for the Latin jazz!"

Helen Pressor
Data Broadcasting Corp.
"An art opening can become a celebration of the creative spirit
when you have Michael Smolens as the musician.
I was fortunate to have Michael providing music
with his alto flute and West African balafon
and djun djuns at my gallery opening.
What I had not expected was the willingness
that my guests showed in joining Michael in
creating wonderful music. Michael has a
talent for making the music experience comfortable
and fun for the participants. As a consequence, many of my
guests played the drums and they 'never missed a beat'
so to speak. The music flowed and was
consistently enjoyable".

Kendra Barron
exhibited artist and author