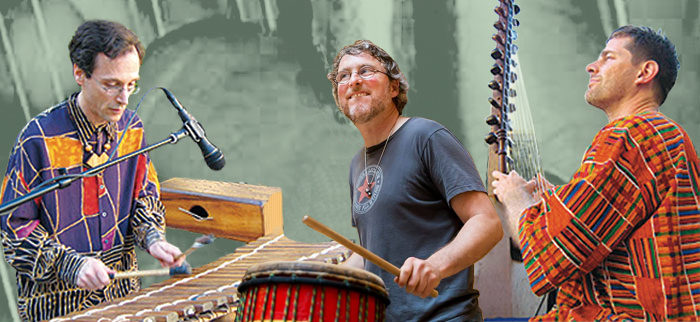 Personnel (left to right):

Michael Smolens
balafon, djun-djuns, bell, tambourine, plastic tubes,
alto flute, melodica, vocals

Ben Issacs
djembe, dun-dun, balafon, udu,
shekere, bell, tambourine, plastic tubes

Daniel Berkman
kora, electric ukulele, djembe, bell
tambourine, plastic tubes, vocals

Description

Three veteran performers/composers/recording artists
join forces to create an enchanting fusion
of traditional and original West African
melodies and rhythms.
The heart of this dynamic and captivating ensemble
are the indigenous instruments balafon (marimba),
dun-dun (talking drum), and kora (harp),
uniquely combined with alto flute, ukulele,
melodica, djembe, djun-djuns, shekere,
bells, tambourine, and vocals.
The band's emotional range spans from
the delicate and longing to the inspiring and ecstatic,
while their collective cosmopolitan backgrounds
give birth to unpredictable musical excursions.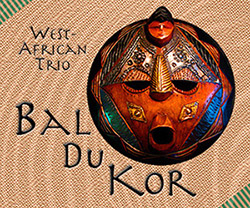 quotes from Presenters
"

Wow, Wow and WOW!!! What an amazing group of musicians,
such a wonderfully eclectic and gorgeous group of
instruments! Surely, this was a performance not to be missed.
Smolens' balafon and Berkman's kora playing really
stood out for me. And the percussion interchange
between ProfessorSlap and Berkman was just remarkable..."
(Producer of Wisteria Ways House Concert Series)
---

"Bal du Kor wrapped us in exquisitely ear-stretching music.
The versatility and musical mastery of the performers
was remarkable.
I have rarely come away from a concert
having felt so enriched,
or my ears so sensuously stimulated..."

— John Steere,
(Producer of the Webster Haven House Concert Series)
---
"Bal du Kor creates a powerful musical experience with
their individual virtuosity and dynamic interplay. Their music
moves seamlessly from hypnotic to absolutely rocking!
Brian's panderio solo literally took the audience's breath away
as we edged closer to our seats, longing to hear what else
would emerge from a single hand-held drum. Each musician
in turn, Michael on the balafon, Daniel on the kora,
introduced us to instruments, rhythms, and music that
will be long cherished by all who attended."
—Brad Gallien,
(Host of Concerts Off The Circle)


---

"I have a very tough audience —
they are used to only classical chamber music
and some were concerned about the volume of African instruments.
But Bal du Kor was an overwhelming success here at St. Paul's !
The kora was gorgeous, the percussion amazing,
and Michael's versatility a treat for the ear and eye.
We immediately booked this trio for our next year's series."
— Marilyn Kosinski
(Concert & Music Coordinator, St. Paul's Towers, Oakland)
---
"The Bal du Kor house concert here was fascinating
and trance-inducing. The interplay between the percussionists
with a full armament of indigenous instruments was virtuosic
and captivating. The kora stole the show at times,
with its harp-like sounds, in the hands of a master..."
—Robert Cowart,
(Host of Berkeley Hillside Concert Series)


---

"Bal du Kor offers an exciting journey of music that is both lyric,
and, entrancing. The diverse instrumentation keeps it
interesting and fresh from one piece to the next.
I encourage you to check them out!"

—Sylvia Brallier,
(House Concert Host)



---

"Thank you Bal du Kor for bringing your colorful music
to Step-Up Music. In our attempt to bring highly creative
and off-the-beaten-path music to our school,
your group was a total success!
The great musicianship—demonstrated by
all three of you on so many instruments and vocals—
inspired our students and wowed our audience.
True to your West-African roots, yet improvisational
in your approach, you demonstrate
how to be tastefully innovative.
Bal du Kor will appeal to all ages and tastes,
and watch out, you might even find yourself up on
your feet dancing wildly!"
—Ariane Cap
Director of Step-Up Music (Vallejo)



---

"On the behalf of all of our students, faculty, and staff,
I wanted to tell you how exciting and informative
your presentation was. I'm not sure what captivated us
more — the enticing instruments, the stories
that you told, or your fabulous playing.
We felt transported...."

—Sherri Carlson (Faculty Liaison,
Mission Valley Elementary School)


---

"Bal Du Kor was a hit! Although it was a blistering hot day,
families at the Summerfest in Moraga stayed
to enjoy this West-African trio. They were professional,
easy to work with, and sounded great."

—Coley Lemaster (LeMaster Concierge)


---

"The children and families of
Children's' Village Child Development Center
thoroughly enjoyed the ebullient sounds of Bal du Kor!
This wonderful group of musicians
helped create an ambience of warmth and sharing.
Our event celebrating West-African cultural heritage
was an evening to remember, thanks to Bal du Kor."

—Molly Skuse (Executive Director,
Children's Village Child Development Center, SF branch)
---

"The Bal Du Kor trio was really engaging, lively, and educational all at the same time. The students enjoyed listening to their beautiful African music played on different and equally interesting instruments. Learning about the origin of the instruments was
a plus. Thank you from all of us at Ardenwood !"

—Razika Benamira-Dod
(Activities Liaison for Ardenwood School, Fremont)
---

". . . the talented West African Trio Bal du Kor performed
with indigenous African instruments playing authentic
West African music...to the delight of all."

—Castilleja School