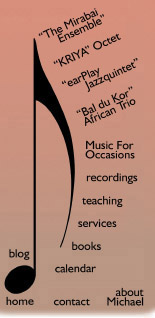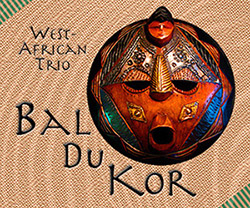 Band Biographies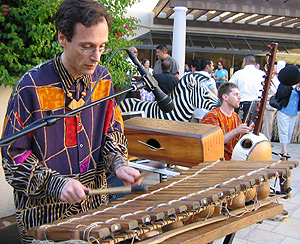 Michael Smolens

has been jokingly diagnosed with A.B.L.S. (Acquired Band Leader Syndrome) by leading many jazz,
international, and classical ensembles. These include
The BABKAS Duo, trios (Bal du Kor, BRISAS do BRASIL, NUVO Chamber Trio), quintets
(earPlay Jazzquintet, New American Songbook Project),
and large ensembles (KRIYA Octet, 10-person vocal MIRABAI ENSEMBLE).
Whereas all of these other groups are highly arranged, Bal du Kor is primarily improvised, fusing his love for free improvisation (four CDs of free duos) with his fascination for West-African music. Though employing different instrumental colors in one ensemble is typical, this is the only ensemble that works equally well with young children and adults.
Michael has been composing for nearly a half a century, and freely incorporates colors, moods, and arranging concepts from a multitude of influences. His primary sources of inspiration include: contemporary jazz (Art Lande, Paul McCandless, Nguyên Lê), modern vocal flights (Bobby McFerrin), 20th-century classical (Brian Eno, Steve Reich, Gabriel Faure), North Indian Classical (Hindusthani), African music (West African, Afro-Cuban), modern Brazilian music (Egberto Gismonti, Heitor Villa-Lobos), accompanied Sufi poetry (Hafiz, Rumi), and stage magic (Jeff McBride). His works have been recorded by jazz legends Stefon Harris (vibes), Paul McCandless (reeds), and Pandit Zakir Hussain (tabla). Michael is also a veteran teacher (since 1974), consultant, author, and poet.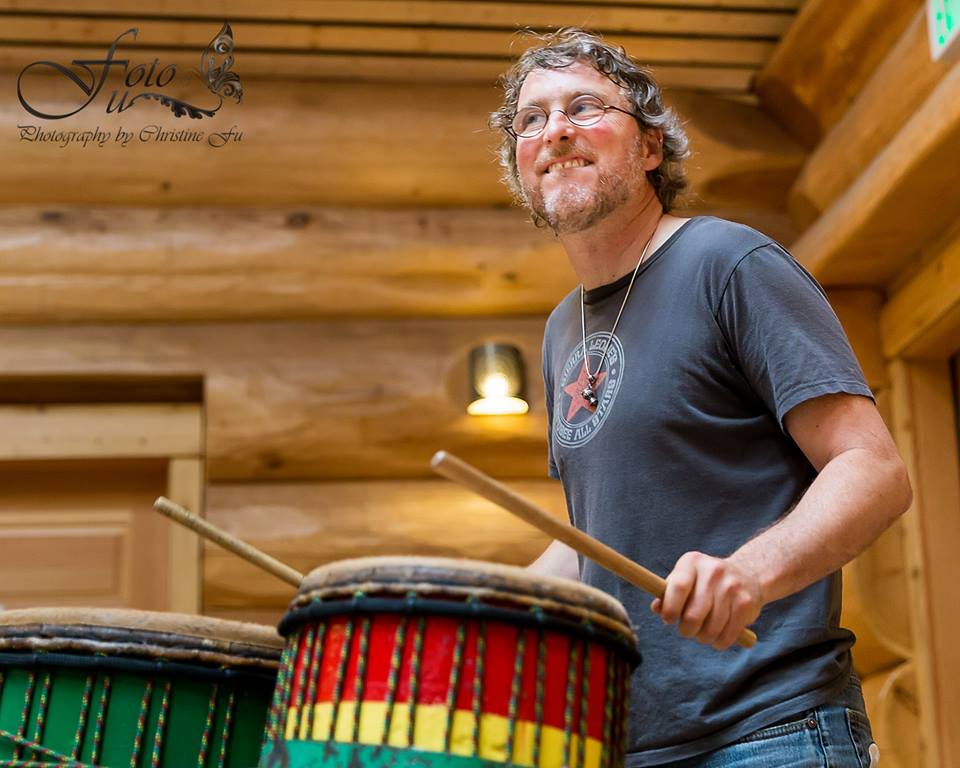 ProfessorSlap (aka Ben Isaacs)
has been playing music his whole life. Starting with violin at age 7, he played trumpet, guitar, piano, voice, clarinet and saxophone during his youth. When 19 he was introduced to West-African percussion and started a passionate connection with hand percussion that has grown for the last three decades. At the same time, he started playing bass and has been working with that instrument in many different styles—from American funk, rock, jazz, and R&B to working with many African artists from different countries on the African Continent.
P-Slap has traveled four times to West-Africa to better understand the culture from which the music comes and to study with master percussionists there, as well as here in the USA. His teachers are from all over West-Africa and include Abdoulaye Diakite, Karamba Dioubate, Abdoul Doumbia, Mabiba Bagne, Sulemon Diop, Dibi Diop-Faye, Mohammed Camara, Moussa Traore, Diop Percussion, Bolocada Conde, Mamady Keita, Fara Tolna, and others.
He has played with various touring international artists including: Djaily Kunda Kouyate, Ibro Diabate, M'Balou Kante, Sekouba Bambino, Balla Tounkara, Karamba Diabate, Mohammed Kouyate, Lokole West and Central African Dance Ensemble, Delou West-African Dance Ensemble, Panjea, Onye Onyamachi, as well as many local groups including the Miles Ahead Group, Ousseynou Kouyate, The Tom Finch Group, Say Bobby, Tracy Blackmanas, Antioquia, and the RhythmAddicts. P-Slap also leads his own original 14 piece urban hip-hop, soul, funk, jazz, West African group The Slaptones in California.
He has taught and still teaches private and group lessons for both adults and children, performing from large venues to living rooms to school assemblies to festivals.
Ben has worked with school children in various school districts throughout the San francisco Bay Area. For him, music is a language that has no boundaries, and he plays with his full heart and soul behind every note expressed.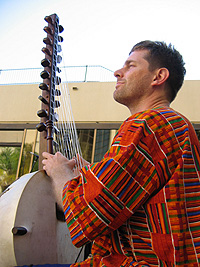 Daniel Berkman

is a composer, multi-instrumentalist (keyboard, guitar,
percussion, drum set), vocalist, electronic musician,
RTFM recording artist, and innovator on the kora
(a 21-stringed harp from West Africa). Upon finding this ancient jewel in 1996, Daniel wasted no time in unearthing the kora's compositional and sonic potential,
first by exploring its rich heritage of
traditional playing techniques and repertoire, then by
extending its electronic possibilities through devices such
as the Whammy Pedal and the Oberheim Echoplex.
His first three CDs, "Heartstrings", "Feverdreams,"
and "Headlands" mark this period between 1996 and 2000
which feature Daniel creating other worldly soundscapes
and a playing technique drawing on his myriad influences.
The 'dark side of music' was explored in that second CD,
a collection of live improvisations inspired by San Francisco performance artist Frank Garvey's robotic art and apocalyptic atmosphere.
While touring West-Africa (Senegal, Gambia and Mali) in December of 2002 as guitarist and kora player with Djali Kunda Kouyate (the twins), Daniel also studied kora, djembe and ngoni with various masters there.
The result is his latest work, "Calabashmoon" (2005),
a collection of crafty and poignant kora pieces woven
into a tapestry of recorded samples and impressions
of that region. Daniel has recently added the gravikord
(a 21-stringed stainless steel electric kora) to his arsenal
of instruments which he manipulates, loops and
transfigures with laptop, looping software, and other devices. His brand new CD "Tape" under the moniker
"Colfax" is now available on iTunes and Amazon.
Daniel has also performed with some of the most important
up-and-coming names in the San Francisco electronic and pop scene (Essence and Ben Graves) and has composed extensively for dance companies and choreographers. He is an original member of Bal du Kor and has also collaborated with Michael Smolens in various duo and large ensemble performances as well.